Pulished on Mar. 18, 2022
Luxury handmade glassware Starry Sky and Vintage Coating
A brand new glassware range with our Garbo Glassware exclusive designs has been launched recently, which had been asked by our clients from Europe, America and Middle East for many times over the past year since we initially published renderings on Facebook and our promotion system. If you want to receive our newest product offers with catalogue and price details earlier than others, do not hesitate to follow us on Facebook and subscribe our website by email with specifying your market region.
Our new handmade glassware published now consists of 2 series, modern innovation Starry Sky painting glassware and recent popular vintage style fashion coating in dark colours relating to our designing department concept and latest trend analysis from marketing department. Both of them require low MOQ like 1000pcs and 2000pcs of each model for small order and commercial event promotions, festival gifts and party decoration purposes with small quantity demands or even disposable t or rental service.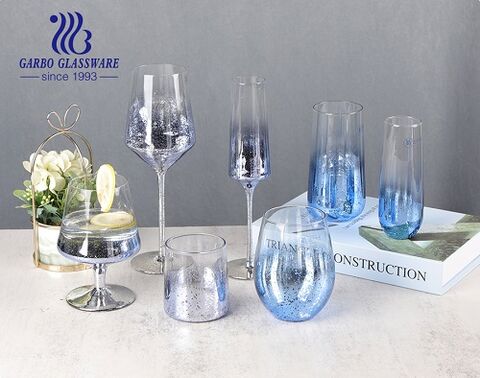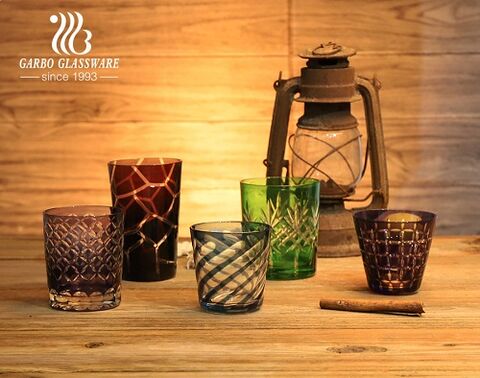 First one is the handmade blown Starry Sky glassware of classic mold short and highball glass tumblers, stemless champagne glass and stem goblets including brandy sniffer, red and white wine glass and champagne flute all in common sizes. Common post processing treatments are used but mixed for this series, colour spraying on the glass wall where colours are displayed as basic effect, ion electroplating for strengthening another layer on colours, and decal for the stars. Processing crafts are mixing together in several colours that are popular to all markets even with different culture backgrounds but mainly for high end orientated markets like Europe and America. Amazon and individual retailing website could be the most effective distributing channel, as well as boutique gift shops.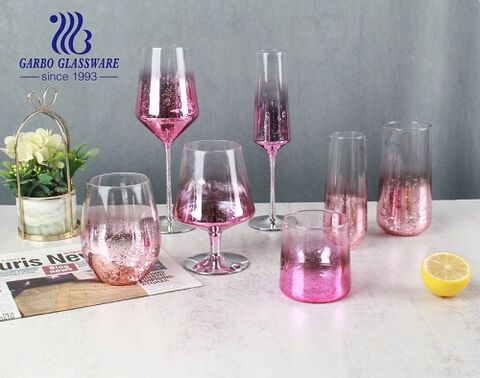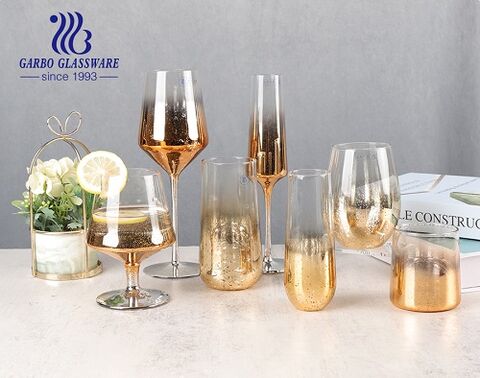 Second one is the embossed glassware including Arabic tea cawa glass , short and tall whisky glass and vintage goblets with exquisite colour coating, which is a post processing requires well trained and experienced craft workers who can deliver all precise details properly. This series could be more exotic from the vintage designs whilst Arabic markets are the first recommendation for multi purposes like tea serving, indoor decoration and special festival gifts. The technical secret from this series is the handmade craft from common machine pressed embossing whisky glasses which look same in transparent version. Colour coating is unfading, which is even lasting forever and more vivid than any normal color spraying or solid color glassware.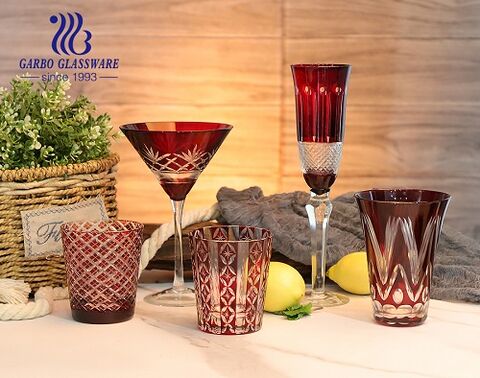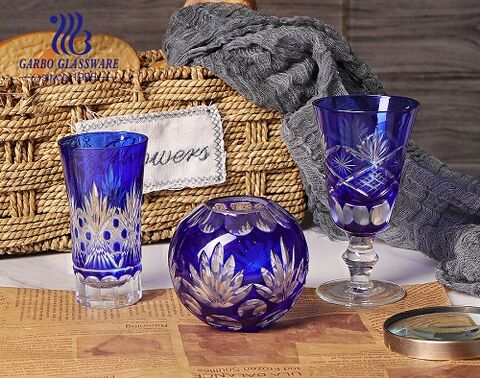 For both series we introduce today, they are only high end market orientated premium glassware products. Thus fancy packaging method is a default recommendation in order to objectify their real value, such as gift box with silk or other accessories. According to our regular exporting method, full container load is always the first consideration on any of our product, so even small order for our new series handmade glassware would still be managed to reach this standard for better price for our clients when gift box with bigger CBM is used. But if you have your own concepts and ideas on other colours on our Starry Sky series and vintage series glassware, we are open to any custom order.