Pulished on Aug. 18, 2021
Hello everyone, today I want to introduce to you the latest design products of our GARBO. I believe you can see from the cover that what I want to introduce this time is the whiskey bottle set.
First, as usual, let's take a look at our product leaflet. From the leaflet, you should have seen that there are a total of four grain designs this time, and we divide them into 7-piece sets, 5-piece sets and 3-piece sets according to the needs of different customers.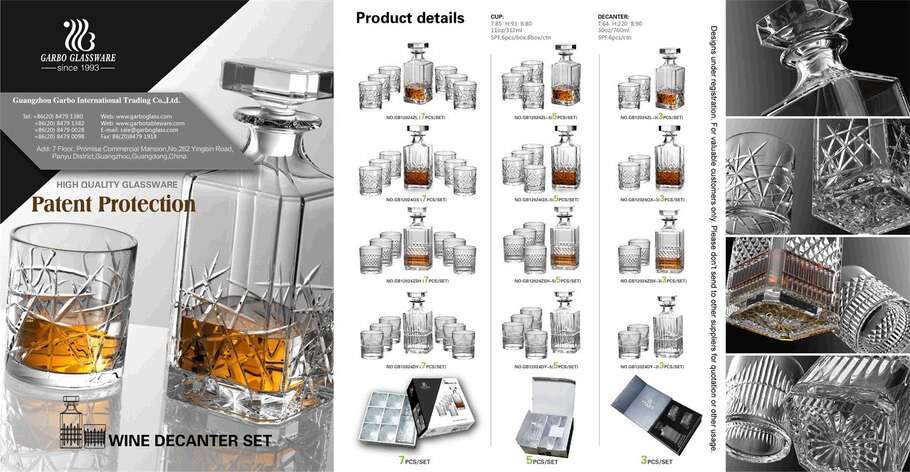 First, let's take a look at the suit combination. All suits are made of lead-free glass and are white and bright enough. The whiskey bottle is 765ml and the whiskey glass is 315ml, which is about 11oz. The sizes of wine bottles and cups are very regular, which also meets the needs of the general public. The wine bottle has a square shape, sharp edges and corners, and has a carefully polished stopper. It is also made of lead-free glass.
Then we take a look at the texture design. If you have paid attention to our GARBO products, I believe you can see that among the 4 designs this time, the first 3 patterns are relatively classic, and they have been used in many series of products, especially the third diamond pattern. I believe that even if you have not paid attention to GARBO products, you are not unfamiliar with this design. Because the diamond design is too classic. Many customers are particularly interested in the diamond pattern, so this time we still used it in this design. This time I especially want to introduce the fourth design. This one was actually created on the whiskey glass last year. This time, the main purpose is to develop the whiskey bottle to form a set with the glass. Does this look more harmonious?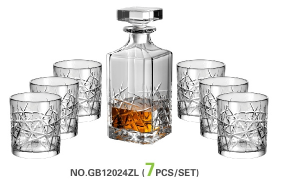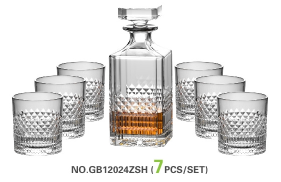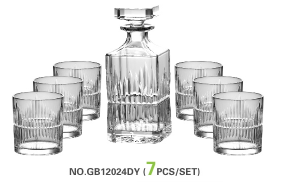 Secondly, let's take a look at the combination of suits. As I mentioned at the beginning, we have combined different numbers of suits to meet the needs of different customers. The 7-piece set is suitable for business occasions. When you are talking with your business partners, use this series of products to add luster to you. Of course, the 7-piece set is also suitable for family gatherings. The 5-piece set is more suitable for daily use at home. The 3-piece set is for single use.
Next, let's take a look at the packaging. At present, our conventional packaging form is shown in the figure below. Generally speaking, it is packed in regular color boxes, but also in gift boxes. Of course, we can accept customized packaging. As long as you need it, we can do it.

Finally, there is the issue of MOQ. When you see these GARBO open mold designs, you may think that MOQ needs to be very high. In fact, this is not the case, this time our MOQ is as low as 500 sets each. We aim to receive more orders so that we can produce them in batches, thereby saving costs. If you like it, what can you wait for? Come and contact us.