Pulished on Apr. 10, 2020
How do we Garbo Glass prepare for the 127

th

Canton Fair
The nightmare, Covid-19 was breaking out in the middle province of China from January 2020. Yet the WHO experts are still trying so hard to trace its origin, which could be anywhere in the world or some animal that brought to human beings. But the fact is that the virus has spread to all over the world.
Since the whole world is living in a panic, especially since March 2020 when Europe was trapped into the chaos caused by the Covid-19, and by the end of March when situation turned to be much worse in the US. China gov had made a hard decision to decline entrance of all non-essential foreigner visitors, which made a huge shock to the international trading business here due to the coming 127th Canton Fair.
Finally a tough decision had been made last week by the authority of China's ministry of commerce, that cancellation the 127th Canton Fair was confirmed and there would be online Canton Fair instead, where all the exhibitors from usual Canton Fair are going to present their goods on the E platform of Canton Fair whilst usual visitors will also be invited.
Garbo Glassware, one of the top 3 glassware suppliers in China, will definitely follow up the online Canton Fair and we will present all the new designs and molds that we launched lately for 2020. We were planning to show all our clients the physical samples in our Canton Fair booths as usual, but we could only say sorry to you guys that this is not a good time. But, we are happy to show you all kinds of pictures and videos of the new designs and send you the samples if you like-as we've got a new awesome technique on 3D printing, which is able to make a sample in the shape, transparency and appearance that looks exactly same as real glass.
Meanwhile, we are also listing our new products on our website, made in china site and alibaba international site. You could visit by the links below:
https://garboglass.en.alibaba.com/
https://garboglass.en.made-in-china.com/
For the new products, the most outstanding part is our opal glassware which comes with a huge discount than ever before! Our designers team are also working so hard to launch many fancy decal designs. By the way, our ceramic&porcelain products are also loved by everyone when our new designs are used on them.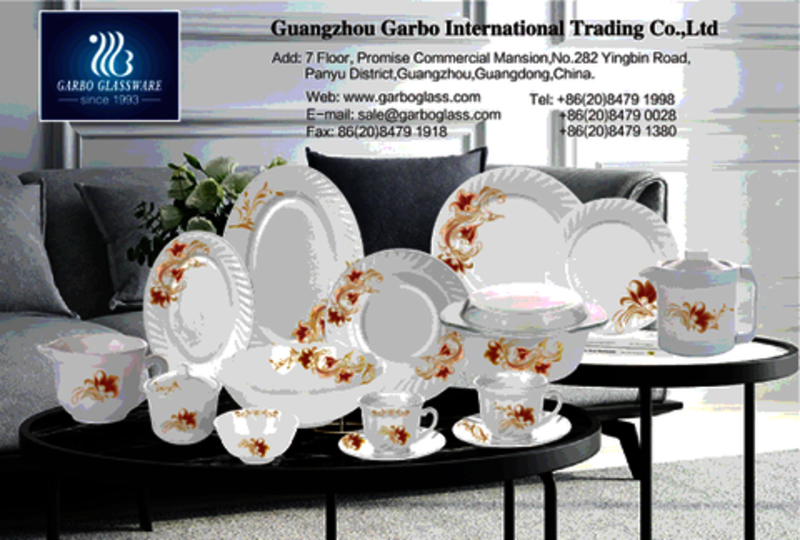 Another part of our new business is cutlery, we were also planning to bring them to Canton Fair. What a pity! But it does not matter, Garbo Glass will meet all your requirements for sample and you will see how great they are. Let's take a quick glimpse of them.