Pulished on Mar. 03, 2020
With the improvement of living standards, people are no longer just keen on big fish and meat.
There must be "three high" people around you. Is the doctor's advice to eat less meat and more fruits and vegetables?
So, what's the most important thing about eating salad? material? time? And the value!
I guess you need a glass salad bowl with a high value!
It's not boring to eat, to keep good time with beautiful food utensils, and the ritual sense on the dining table starts
from the beautiful salad bowl.
Individual hammer design, hazy texture, through the fruit's bright colors, to create a quiet feeling of good years,
characteristic gold design, crystal light shining, full of ceremony.
Personalized inverted trapezoidal appearance design, large-diameter fruit salad is very convenient, transparent
texture is flawless, letter decoration is simple and stylish, thick glass bottom, stable and anti-scalding, smooth
edges are comfortable to touch.
The colorful salad bowls are as colorful as the aurora, and the glowing colors are wonderful. Under the light
and shadow, the ultimate beauty is presented. The design of large, medium and small appliances, daily salads,
fruit candies, etc., should not be enjoyed.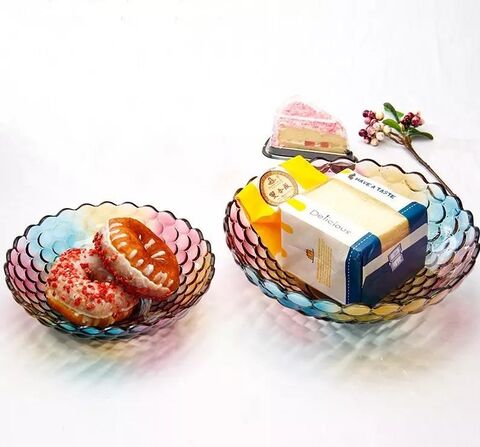 Summer is coming soon. It's hot and lazy. In addition to air-conditioning and wifi, cooking some side dishes
and mixing a salad is probably the right way to open this hot summer. If you add a cool salad bowl, it is even better.
Are you also interested in those beautiful and cool salad bowls? If yes, just find Garbo Glassware and contact at [email protected]
We're here on your service.