Pulished on Apr. 06, 2022
Established in 1993, GARBO has developed into a major manufacturer of glassware, including plate, vase, bowl with various colors. Consistent high quality product and well planned production capacity have attact the many customers worldwide. Every single product from GARBO has been manufactured under rigorous scrutiny step by step. Our products are made by safe material which will pass the food test easily, such as SGS FDA etc.. Why do you choose Garbo company, I can tell you that our products are high quality, we can provide you with competitive price and ontime delivery. We ship 1000 containers to European and American market every month so that you can know how large scale of our company and the reputation of our company. With the glass set below is not only very popular in Arab market but also we sold it worldwide, such as India Pakistan , Southeast Asia etc.. Presently, we are looking forward to even greater cooperation with overseas customers based on mutual benefits. Please feel free to contact us for more details.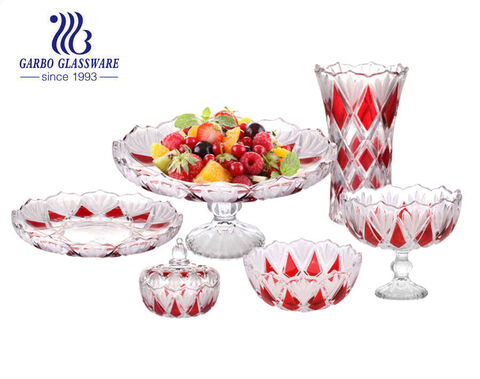 For the products below are glass plate, glass bowl, glass vase and glass candy jar set. We custom the frost design in some parts and spray color on the glass to keep the whole design looks more beautiful and elegant. For the glass bowl, we have stemless one and stem one, for the stemless design, you can put salad fruit soup on it, and for the stem design, you can decorate with some delicious food or salad. For the plates are the same design as bowl, for the stemless design, you can serve it with steak and vegetables on it, and for the stem one, you can put some snack or nut on it.
We are the largest supplier in China and we can deal with export issues independently, so that we can provide you with great discount ad t quality. What's more, every month we export about 200 containers of the glass set to middle-east and Asian country respectively such as Arabia, Kazakhstan, Uzbekistan, Dubai etc.. We can custom the color box for you with the glass set, so if you wanna present it to your friend or relative, this is the perfect one for you to send it to your parents or friend in some special events or festival.