Pulished on Mar. 19, 2022
Housewives always have troubles is that we usually cook, but there will always be some unfinished meals and it is a pity to abandon them. So we usually wrap it in plastic wrap and put it in the refrigerator, but it is easy to odor unfortunately, and you never want to eat it at all.
With this trouble of housewives, we have developed a new lunch box product, which is very popular among housewives all over the world---glass lunch box series.
The design of the glass bowl is a plastic lid + silicone ring + glass bowl, it can be used to hold some unfinished meals or be used as a glass bowl or a refrigerator storage box. Of course, you can also use it to bring dinner to school. Even if you bring some soup dishes, it can be well avoided spilling because it is completely sealed.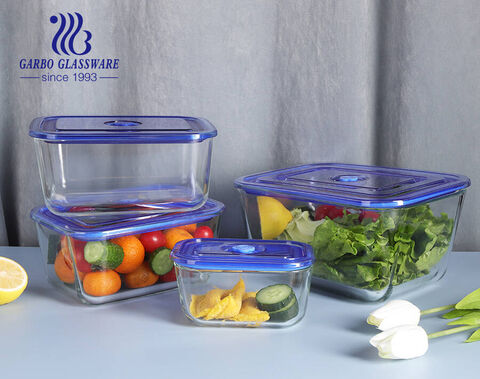 This design of glass bowls is also very attractive. The unique design of the blue lid and the blue material glass bowl complement each other. The material of the glass bowl is thick and translucent, and it feels smooth and moist. The whole design is full of the breath of spring. Because it is a borosilicate material, you can put it in the microwave to heat food without any worries.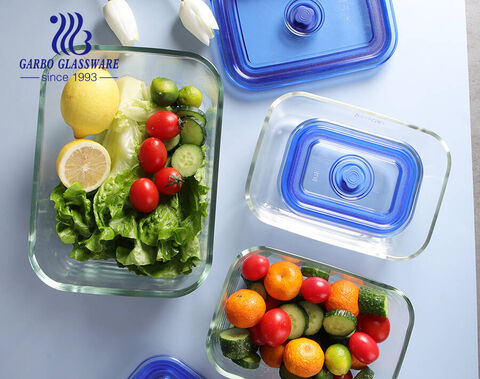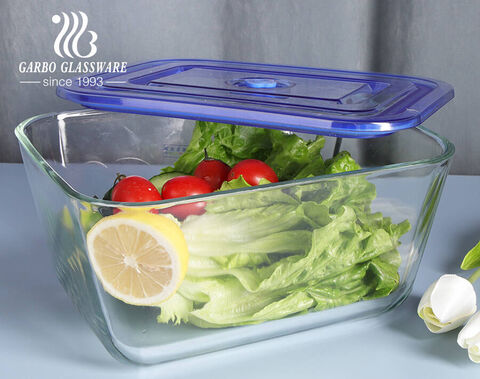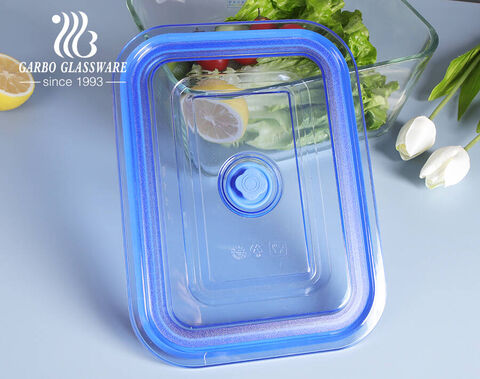 This lunch box set have multi-function to meet a variety of life needs.
1. Store food in the refrigerator
There are too many ingredients in the refrigerator, and they are piled together at random, which will cost much time for you to look for something, so the transparent glass lunch box can help you and we have three size for you to choose. What's more, you can cover the lid when you load things in the box to keep the refrigerator clean. Besides, you can put the ingredients or cut vegetables into the lunch box, and then put them in the refrigerator, which is not only better for saving room, but also better for preserving the ingredients.
The transparent glass material and blue lid also make the food in the lunch box clear at a glance. When you open the refrigerator, you can easily find the box you want.
2. Decor as a tablescape
Such a high-value glass lunch box can be placed on the table directly as tablescape, which is beautiful and elegant, and the food is clearly visible. Then, you can also use it to temporarily store some cooking ingredients, such as cut dishes, beaten egg liquid, etc. when you wanna cook.
3. Bring Meal Outside
During picnics and camping, you can use it to load some meal or fruit on the lunch box and carry it lightly, and share delicious food. When you usually go to work, you can also use it to bring lunch, which contains some fragrant dishes or soups instead of takeout, such as sushi, rice balls, fried chicken, fried rice, chicken soup, etc.
4. Microwave oven safe
The glass lunch box is made of borosilicate glass material which is heat-resistant one that you can safely put it in the microwave to heat food, or you can put it in the dishwasher, because of the smooth glass material, so it is more convenient for you to clean.