Pulished on Mar. 19, 2022
Top five most popular products in Garbo classic stocked glass inventory:
1. Sunflower series.
In this series, we have a stock of mugs and water cups, the quality of the glass is high white material, and the process is pressed by machine. The appearance of the cup has a carved pattern of the sun, and sunflower is a best-selling element, which is why we make it one of the regular stocks. You can use these cups to drink milk, coffee, and juice. Using it will make your drink look more delicious, and using it to entertain your friends will also give everyone a sense of beauty. We often wrap two pieces of this product in a color box, and then put a bubble bag inside to prevent it from breaking. If you want to make your own custom packaging or need to label, you can tell us before the quotation. We will quote according to your request.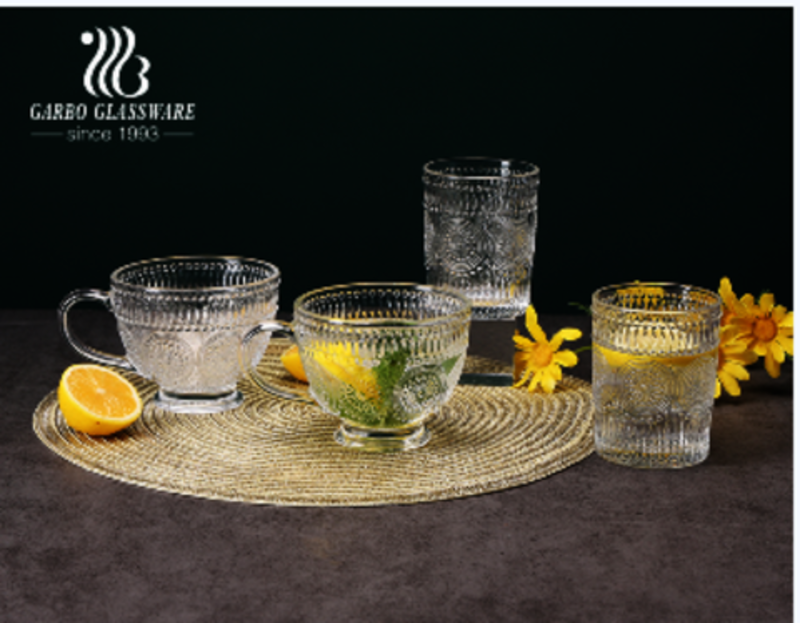 2. Brown crystal cooker.
Our standing stock uses ordinary glass instead of high boron glass, so its price is very advantageous. Its structure is a bowl with a handle and a lid, this structure can be used to hold hot food so that the food will not get cold easily. Since this bowl is sprayed, we do not recommend that you wash it in the dishwasher after use, which will cause it to fade.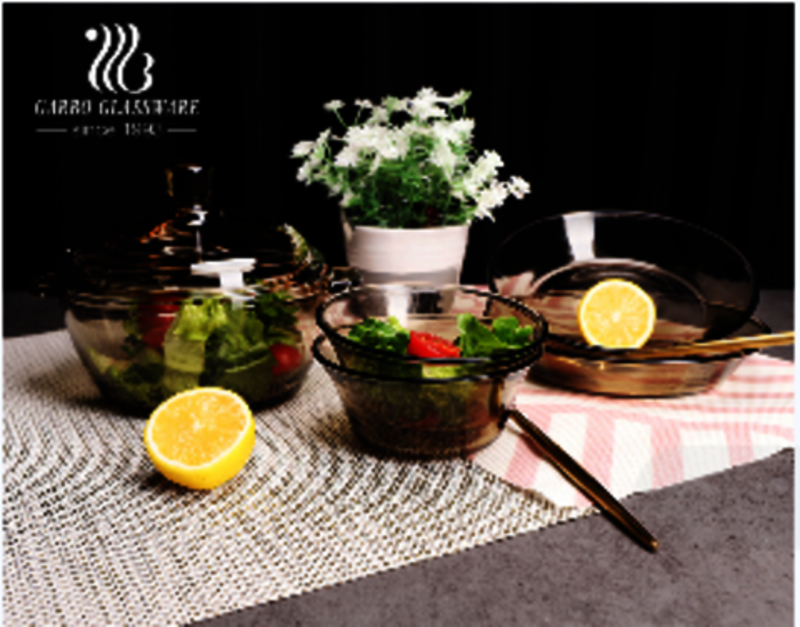 3. Black teapot set.
There are five products in this set, one teapot, and four small cups, so it is very suitable for enjoying tea time with your family or friends. The handle of the teapot and the handle of the cup are plastic. This plastic is non-toxic and harmless, and because it can withstand high temperatures, it can avoid scalding your hands. There is a stainless steel filter in the teapot that can hold tea. This design can prevent you from drinking tea when you drink tea.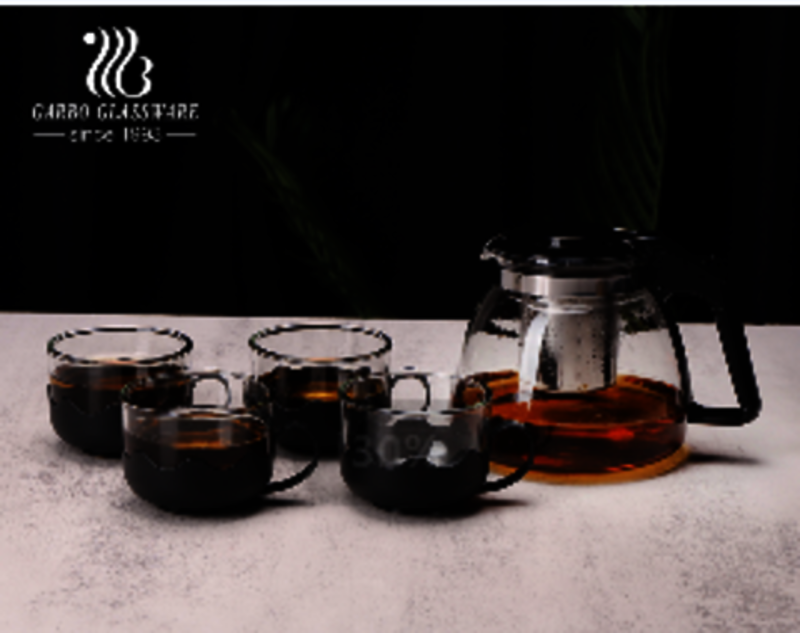 4. Ion plating kettle set.
This kettle set is a five-piece set, in which there is a kettle and four water cups, so you can use this set to hold fruit juices and drinks, it is very suitable for use in summer. The gold ion plating process also makes this cup and kettle suit look more upscale, so this suit is not only a drinking utensil but also a decoration on your desktop.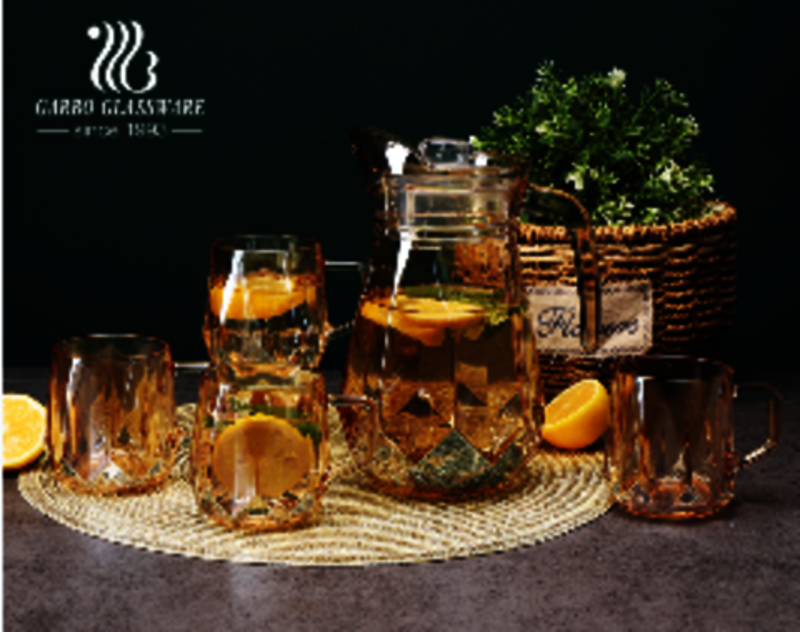 5. Hammered cup pot set.
The Hammer pattern is one of the hottest glass elements in recent years, many glass products use hammer patterns, this cup and pot set is a hammer pattern, the kettle has a colored plastic cover to prevent drinks from leaking out.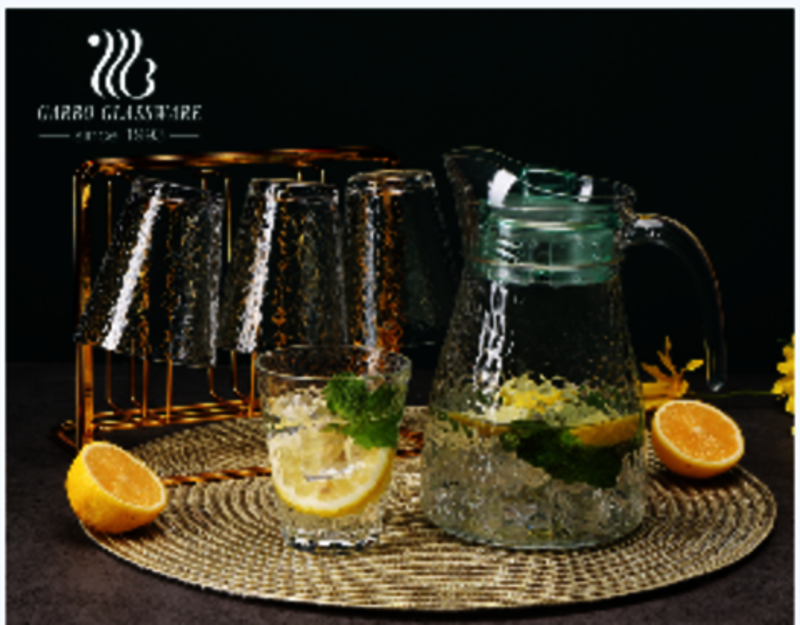 These are the best-selling products of our company because they are very popular, so we will take them as standing inventory. If you purchase these products, the delivery time will be very short, and the goods can be delivered within seven days.