Pulished on Jun. 09, 2022
Garbo is the largest supplier in domestic China and a leadership in the glassware industry for 30 years. The following details are our strength and wanna tell you why choose Garbo:

1.We have our own large warehouse. Garbo has a large-scale warehouse to stock some hot selling products who wanna purchase a trial order, with a total area of more than 15,000 square meters in Panyu District, Guangzhou City. So that we have millions of designs in warehouse and ensure the supply demand of domestic channel sellers of the Garbo brand. What's more, we also has established a branch office and warehouse in Anhui Province, as the international channel supply management base of Garbo brand.
2.We have our own professional designer team and sales team to help you with all the steps from the order you place before and the after sales.
3.We have our own factory. We can customize the product for you according to your requirement about the packaging or the design of the cup.
4.We can provide you with factory price and more discount in surprise. We have team to deal with tax refund so that we can provide you with more favorable discount.
5.We are very familiar with the market and can recommend the most popular products to you in the local market.
6. We have 6 sample rooms to stock more than 30,000 designs in our company.

Below are our currently very popular cup products in Africa, I will introduce you their features post-processing and hot selling market one by one.
The cup has a capacity of 10 oz, which is perfect for drinking water, juice or beer. The patterns on the glass, like flower, small animal and grass, are very popular and classic in African market, such as Congo, Nigeria, Gambia and other African markets. Because we can OEM&ODM the pattern for you, so if you have any idea about the pattern or logo, we will meet your requirement very well.
For the post-processing process of the logo, we choose printing. Because printing is much cheaper than decal, so the price of this cup is very advantageous and it is suitable for the market who request low price but gorgeous.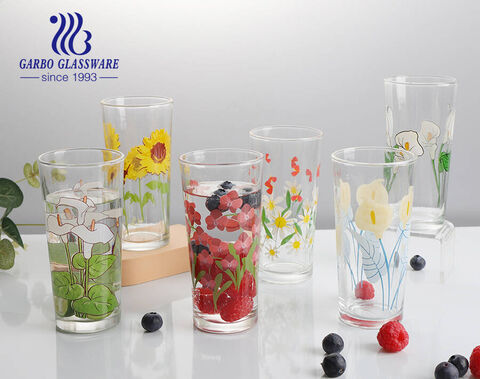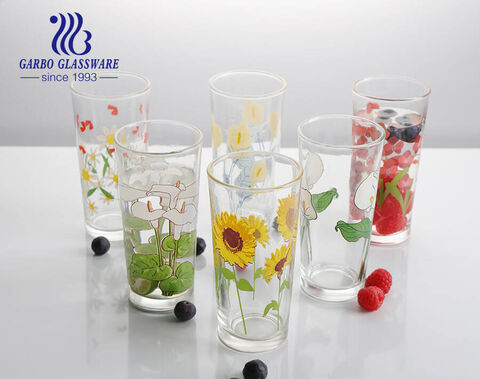 Besides these printed cups, we also have some clear tumbler which are also very popular. Like this design of glass cup below is usually used to drink beer or water. This cup is also a very classic style, and the price is also very popular with Gambian/Benin suppliers, and we always ship this style to the two markets every month.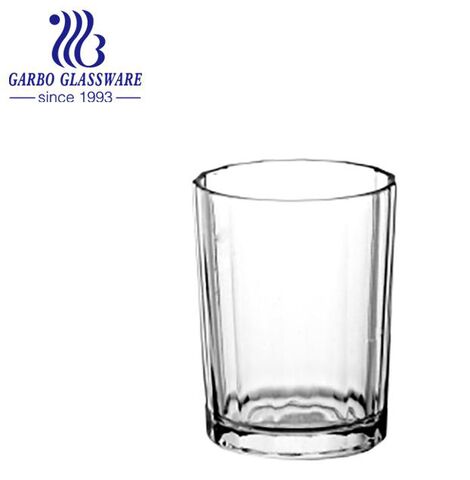 This fashional design glass cup is also a very classic style, because the wall of glass cup is thick and heavy, which will make it looks more elegant. What's more, the factory has always had orders in production. This cup is very popular in Burkina Faso and South Africa market that we have more than 80 containers to these two markets every month for sale.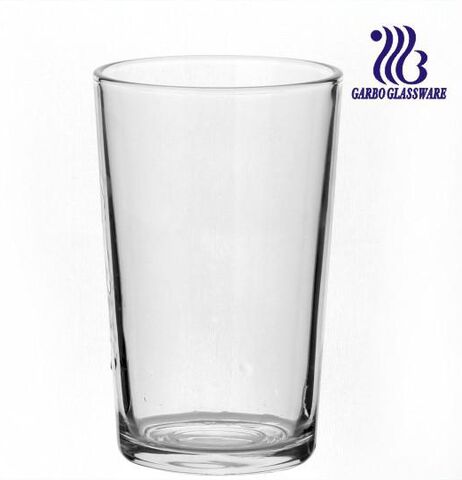 This cup has certain advantages in appearance, because it is different from the previous clear one. It has a engraved pattern on the bottom of the cup, which is very popular in Burkina Faso, Gambia, and Egypt. Because this product is very popular in the local market, we have a fixed repeat order every month.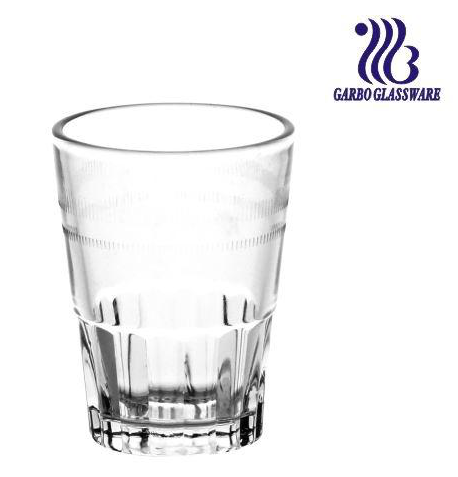 If you want to know more market information and products, please feel free to contact us. We are not only the glass product supplier for you, but also your best partner to provide you with market information.