Pulished on May. 31, 2019

Double wall glass is always popular among European and American markets. Since double wall glass is heat resistant, it is suitable for coffee, tea or any kinds of hot drinks. Many people enjoy their daily coffee or tea with double wall glass cup or double wall glass mugs.
Garbo Glassware has years of advanced experience in double wall glass products range. We are professional supplier to offer different kinds of double wall glass mugs, cups, tumblers, tea mugs or tea sets. With high quality, good package and the most important, reasonal price, it allows us to become stable and long-term business partner for many brands from European or American.
The sales dept made an analysis based on their product sales statistics and sales order reports from 2018.
The figures in below line graph shows that sales to Europe remain the biggest volume.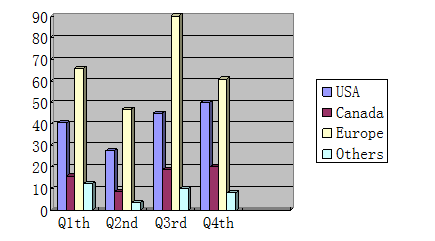 And do you know what the hot sellers to Europe are? The chart will tell you.
Item#

Photo

Description

Features

GB540070450

Glass Tea Cup with Lid and Stainless Steel Infuser Basket

Ideal for office use or for busy mornings

GB500140380

Set of 2 heat and shatter resistant

Insulated Iced Tea and Coffee Glasses

keep your hands cool with hot drinks and free of condensation with chilled beverages

GB510030300

12oz standard size and shape with handle

Best choice for daily morning coffee

GB510120600

20oz big coffee mug

Suitable for daily dining, work and party. perfect for espresso, latte, juice, milk, tea and various beverages.
All double wall glasses have advantage as:
1.
Heat-resistant-high borosilicate glass material, lighter but more durable.
2.
Easy to clean-dishwasher and microwave safe, also, the smooth surface makes it easy to clean by hand.
3.
Elegant looking and ideal gift-
suitable for daily dining, work and party. Stylish and practical, double-walled glasses would be a nice gift.
Garbo design team is working on new models and surely will have more collections to meet your need.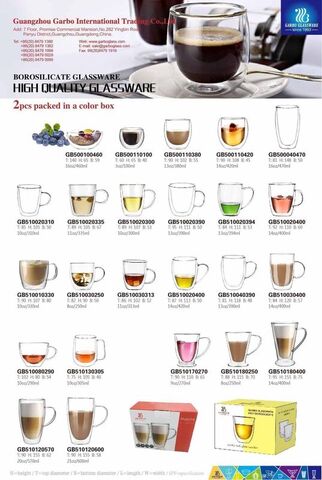 If you need double wall glass, Garbo is your best supplier from China.