Pulished on Apr. 02, 2020
Stainless steel cutlery has been used in daily life since long time ago. Different cutlery in different price. And as customer, how to identify the good quality of stainless steel cutlery?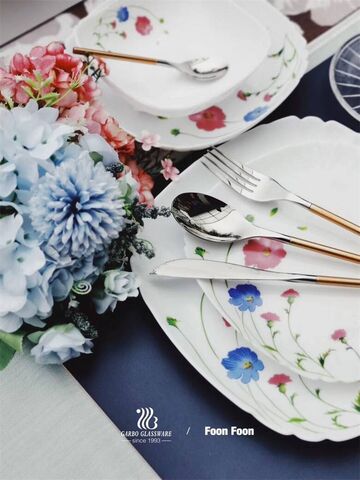 Observing Glossiness of Stainless Steel Cutlery
It is simple but important to watch the surface of cutlery. If the cutlery is glossy, pure stainless, can be a mirror reflecting light, that is a good cutlery.
How can it show the glossiness with stainless steel cutlery? It is related to the craft of stainless steel cutlery.The polishing is so improtant of flatware. Above mentioned that's mirror cutlery is made by called mirror polishing. Using high end machine with cotton knited lines, is the key to polish the high quality product. Cotton is soft and flexible, knited as lines of machine to polish convex edge precisely, formed mirror with keeping burnishing rough surface.
In contrast, the poor quality stainless steel cutlery is dim without mirror reflecting, rough in stead of glossy surface. And most importantly, It may be felt bad while touching this cutlery because it's convex stabbing hands. Different with mirror polishing, the craft of bad cutlery is tumble polishing by machine. What is tumble polishing? It is polished by machine with vibrating water so that water ripple make into cutlery. That's why poor quality cutlery are rough and dim.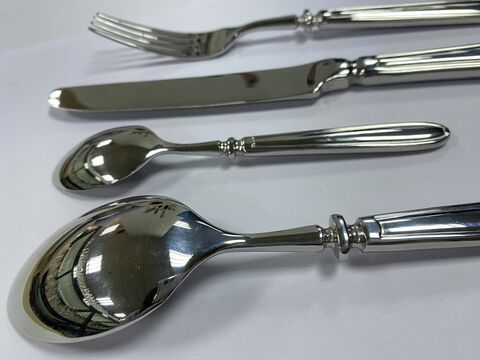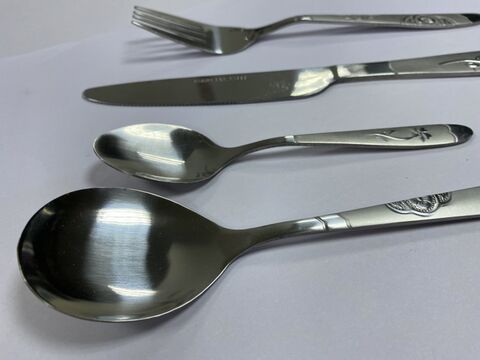 Weigh Stainless Steel Cutlery
Stainless Steel is made through almost 40 procedures that becomes cutlery used by people. A good cutlery always contain more stainless steel in unique shape so the weight can be identified a good or bad stainless steel cutlery. Since all kinds of cutlery are produced by 430(18/0) or 304(18/10) two rolled steel.
A good cutlery is made by 304(18/10), and bad cutlery usually be produced with 430(18/0). Price of these two rolled steel is different. With new design and high price of material, it is heavy of good stainless steel cutlery in general.
Otherwise, it is lighted of poor quality cutlery.
The complexity of stainless steel cutlery's crafts determine the price and quality. Hope you can identify best cutlery for yourself with the above two simple mathod when you choose and buy stainless steel cutlery.