Pulished on Nov. 28, 2022
Borosilicate glass is a kind of glass with heat-resistance.
The most important material is Sio2 and Caco3, which are very normal material in our daily life. Because the melting temperature of high borosilicate glass is higher than those soda lime glass product, so the factory will adopt some new technologies and processes to produce them in the manufacturing process.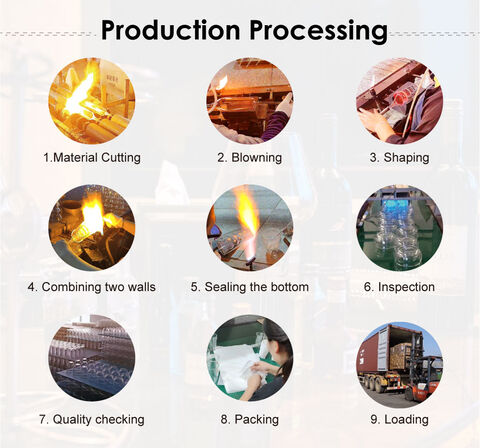 Widely Used
High borosilicate glass has great heat-resistant characteristic and high physical strength. Besides, it also has no toxic effects, and its mechanical properties, thermal stability, water resistance, alkali resistance, acid resistance and other properties are great advantages when we compared with ordinary glass. Therefore, it can be widely used in various fields such as chemical industry, aerospace, military, family, hospital, etc. It is a perfect material to custom lamps, tableware, dinner plates, lunch box, glass mug, glass cup, baking tray baking bowl and microwave oven plates, which will have good promotion, value and social benefit for those supermarket and gift shop.
Borosilicate glass is an important material for making high durability glass instruments such as test tubes for laboratory. Of course, its applications are far more than these, like we can custom vacuum tubes, aquarium heaters, flashlight lenses, professional lighters, pipes, glass ball artwork, high-quality beverage glassware, solar thermal vacuum tubes, etc. with high borosilicate glass material. What's more, it has also been applied in the daily market all over the world. For example, we custom the lunch box, glass mug, glass cup, glass pot, baking tray baking bowl with high borosilicate glass material, which is microwave and oven safe when you use it.
How to import high borosilicate glassware in China.
Garbo glassware is the one of the top 10 suppliers selling glassware in domestic China for about 30 years. We have our own factory and the biggest warehouse in China. so that you can buy small quantity and ship immediately. We have thousands of daily used glassware for you to choose, such as glass tumbler, beer glass, shot glass, glass goblet, , whisky glass,high ball glass,glass candy jar, glass bowl and plate, etc.. we also know the market very well, for the solid glass, color glass, glass goblet, these items are that we are very professional in South American Market.
Lifestyle products
Because high borosilicate glass has a very low coefficient of thermal expansion and stable heat-resistance, it is used in daily necessities to custom glass kettles, glass mug, double wall glass tea cups, baking trays, baking bowls, lunch boxes and so on.