Pulished on May. 19, 2020
It's been years since Garbo Glass launched our first trial on opal glass and we've been doing great on this new project. If you have been to our booth in Canton Fair, especially last year 2019, opal glassware was the biggest attraction among all the glassware we listed on the shelves thanks to its outstanding quality and competitive price, and special multiple decal designs for different markets. Meanwhile, the opal glassware dinner sets we displayed there caught many attentions.
Since middle of 2019, Garbo Glass decided to take an adventure on something different for the opal glassware, which was the black version. After autumn Canton Fair of 2019, to be honest, we did not have much feedback about black opal glassware. Basically there were 2 views about it, one was that black opal glassware costed too much compared with normal white opal glass, another was that black opal glass was new and clients had not gained useful marketing information about it, from which our clients would not want to take a risk for this new project.
Garbo Glass would definitely agree with both of the views from our clients, it was new and price was not competitive at all compared with white version. The situation changed since the beginning of new year 2020 however, Garbo Glass has determined to expand this new project and invested extra 30% finance to the black opal glassware business, which included new machine equipment upgrading and management optimization. Meanwhile, Garbo Glass assemble another special designing department to develop more decal artworks for the black glass, from which you will find all brand new printings on this new product.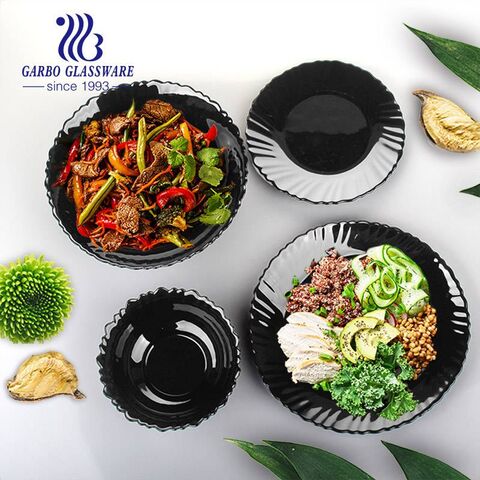 As a result to our team's contributions, we finally achieved what we've been looking for over the past year. Currently we're providing and promoting the black opal glassware with prices much competitive than last year, which could be 20% off. Meanwhile, we are open with more moulds than when we started, that we had only about 50 moulds for the black version. After the equipment upgrading, we are able to provide every mould we have in white version for the black opal glassware because they can be manufactured together by inputting two different materials.
The policy for black opal glassware for now, is exactly same as how we do for white opal glassware, that you could also mix different items for your order, and you could even mix it with white version due to the higher efficiency of our manufacturing and our in stock inventory. So why not try it now?