Pulished on May. 07, 2020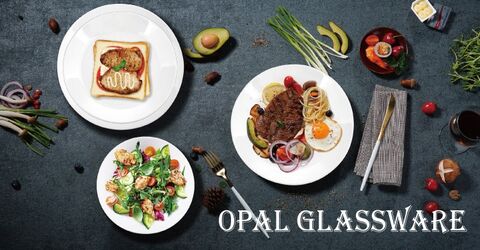 In recent years, in addition to glass and ceramics, there is one kind of material tableware that suddenly became popular, that is, opal glass, which was originally developed and promoted by the internationally renowned brand Luminarc, and is now known to most people. So what material is opal glass? What are the advantages of opal glass tableware?
What material is opal glassware?
Opal tableware is not toxic. In essence, it is glass. White jade glass is glass-ceramic with high stability and can be used in the food industry. It has higher brightness than ceramics and better toughness than glass.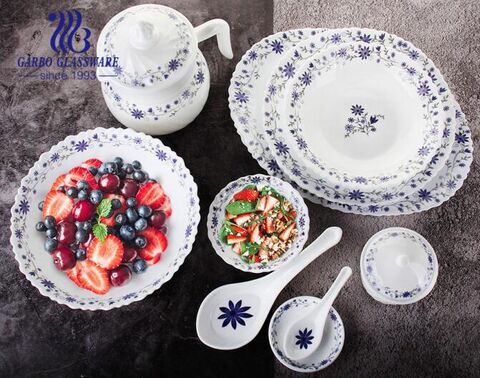 What are the advantages of opal glass tableware?
1. Opal glassware as tableware not only has stable performance, high hardness, smooth and easy-to-clean surface, but also excellent surface decoration performance and continuous improvement of thermal shock performance.
2. The opal glass tableware design is simple and stylish, and it looks very nice with any dish shape. The smooth texture without pores not only looks comfortable but also does not easily breed bacteria.
3. The material of white jade glass is light and not heavy, and the light and thin sense of jade quality can be seen in the light transmission.
4. The anti-knock performance of the white jade glass edge and bottom is stronger than that of ordinary ceramics, so as to reduce the chance of injury to the tableware that children should break.
5. The opal glass tableware has stable performance. It can be directly put into the oven, microwave oven and other heating to cook food, and can also be put directly into the refrigerator to refrigerate and freeze. Compared with other tableware that is not resistant to high temperature or status, the functionality is more extensive.
What the above content mainly describes is what is the material making for opal glassware? What are the specific advantages of opal glass tableware? Glass is a very transparent glass, but not all glasses have high transparency. The difference between different types is actually huge. Opal glassware can be said to be one of them. For example, the characteristics of white jade are easy, making this type of glass more atmospheric in appearance, so it is suitable for tableware.