Pulished on Oct. 28, 2022
Glassware, the widely use container in our daily life. Garbo Glassware have thousands of glassware items, and create 5-10 items a week. There is traditional glass items and some creative develop glass items. You can find glass cup, glass mug, wine glass, glass bowl, glass plate...in Garbo with good and quick service.
I am gonna to introduce you some traditional shot glass cup and creative shot glass cup?
The clear traditional shot glass cup
50ml Thick Base Mini Spirits Shot Glass Tumbler for Restaurant Hotel Party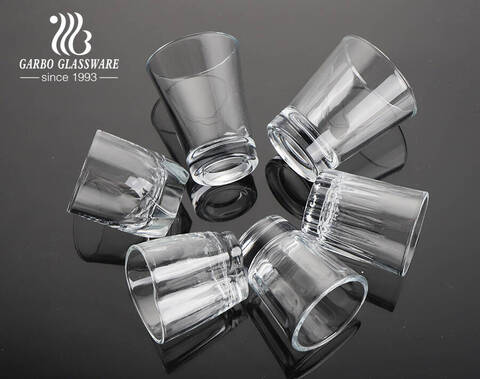 This shot glass is with 50ml volume, which looks mini size and cute, it is perfect for whiskey, tequila, vodka, espressos, desserts, party decorations, gifting, bars, hotels, restaurants, night clubs, catering, home, kitchen, housewarming, birthday, wedding, anniversary, retirement, graduation.

Its heavy base for a solid foundation, perfectly balanced to prevent tipping and spilling and dishwasher safe.

The every detail of the Shot glasses has been polished and refined. Round and smooth, giving you a wonderful touch.

With round and smooth clear traditional shot glass cup is also usually used for post-processing like printing,decal, spray color, frosty, gold plating, hand-drawing etc.
2oz leaf shape barware new design engraved shot glass cup in stock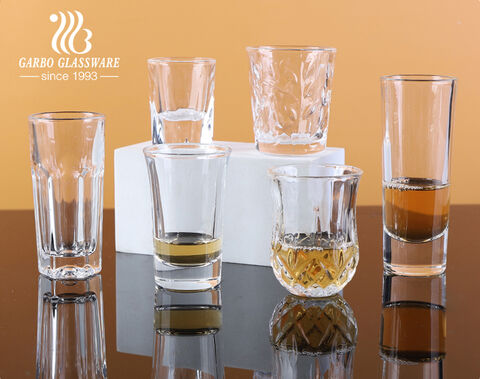 as the picture we show,we have many different type of shot glass in stock can choose, leaf shape, rock shape... isn't these not creative?

The quality of these creative shot glass is very good , high white grade material soda lime glass and all the glass nearly no bubbles.
Both traditional shot glass cup and creative shot glass cup are made of high quality soda-lime glass, with this material the cup can be put into dishwasher after using, can pass international food grade test , therefore it is very healthy material. Customers don't need to worry when using it.
There is more options in Garbo Glassware, welcome to contact with more detail.