Pulished on Jul. 07, 2020
Glass bowls can use for salad, milkshake, fruit, nut, candy, sauce, dessert, etc. Or you can store fruits and vegetables in the fridge. 5 different capacity glass bowl means they can contain different food. That why 5 pcs glass bowl set is popular all the time.
If you want to custom 5pcs glass bowl sets, firstly you need to find a company that had sold these items every month.
5pcs glass bowl sets are Garbo's best-selling products, we have a lot of customers who reorder this hot product. I am strongly confident that Garbo will be a wise choice.
Usually, there are five aspects you can customize, like the lid, shape, color, decal, and package.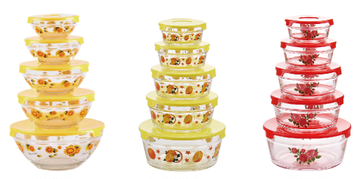 What's more, 5 pcs glass bowl sets can be combined with different colors or even different patterns of PP LIDS. You can choose colors, such as black, blue, red, orange and so on. The design we can provide is also varied, flower designs like lily, daffodil, rose, cherry, etc. And we can also make carton designs or animal designs on the lid. The technique of the lid design is thermal transfer printing.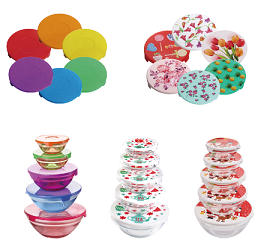 There are lots of shapes for the 5pcs glass bowl set we can offer. There are circles, V-shaped, V-shaped, square, polka dots, or ringlets, and so on. Choose what kind of shape it depends on your market and your promotion plans.
About the post process, we can spray colors on the glass bowls, too. If you need to design the color, tell us the Pantone color code. We will match colors with Pantone Matching System you need. Moreover, we will advise you on some popular colors if you want suggestions.
Not only the bowl shapes and lid can be designed but also the decals. You have plenty of choices, such as plants, animals, cartoons, etc. As long as you have an idea, you can tell us, and we will grant your wish. And don't worry about the food-grade, we have done lots of the food tests like the FDA, EU, LFGB.
About packing, normally, the 5pcs glass bowl will be shrunk and packed into a color box. You can design your own packing, or we can offer you brown box packing, color packing, with foam or without.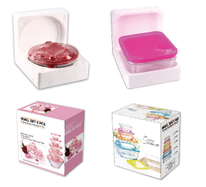 Warmly welcome you to visit our company or our website to know more about our products.