Pulished on Nov. 20, 2021
Recently Garbo International just launched the melamine tableware products including regular bowls, plates and cups with different sizes to meet different demands from global markets. Currently we have 2 series of melamine tableware at your option in terms of decal designs, but we are always open to your own customised artworks on decal or even the product mould itself if your quantity reaches the MOQ respectively. Garbo International has already determined to develop our group towards a one-stop supply chain of all kinds of tableware products, therefore melamine products for most Middle East Arabic markets, India markets have finally been brought to our catalogue page.

Obvious advantage for our budget-cautious clients who always try to load as many models as possible is that they are in stock all the time with numerous models in multi sizes, from which our clients will face less pressure from their own in stock inventory by mixing such as a dozen of different items with small quantity in a full container. Besides, melamine product has much smaller number on weight issue compared with ceramic and glass tableware, which we can load the container fully to split the unit price from shipping.

Melamine is actually a sort of plastic product and usually named as plastic ceramic tableware in many countries. Raw material melamine resin is a composition of non-toxic chemical resin and fiber, but you have to choose a reliable supplier carefully when you buy any melamine product. A qualified manufacturer like Garbo Tableware & Plastic would be a good choice among numerous factories here in China. We have put all our models on records with food grade test, non-toxic remains or side effects to human beings under authorities in China and other third party of inspection such as SGS. Garbo Tableware has strict and absolute independent control on our raw material supply chain and manufacturing process as well to ensure our business ideal that quality is always our priority among all situations.

Features on the finished goods cover many aspects that final consumers care about. Compared with fragile glass and ceramic tableware, a melamine plate or bowl for example, is even unbreakable during long distance shipping or daily use. It does not mean glass or ceramic tableware is not good but it only depends on market orientation. Melamine product is easy to clean, suitable for hot and cold foods serving but please do note that never put a melamine product into microwave and oven. Its food safe contact and unbreakable merits become an attraction on children tableware market.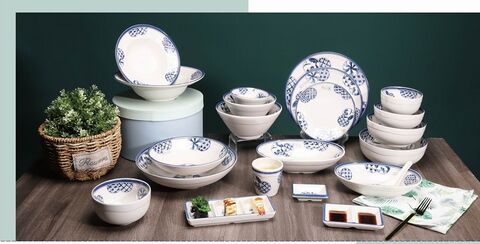 From the appearance, you can't even tell it is ceramic or melamine as they look same and the decal process is also same as ceramic. If you want to differentiate melamine from a ceramic sample, the easiest way is to check the bottom or knock at each other. From the bottom, melamine is just average plastic whilst ceramic looks more or less like stone. For example, when melamine bowls knocking at each other makes only plastic sound but you will hear clear fragile sound from ceramic products knocking at each other.