Pulished on Jun. 10, 2021
Hello everyone, it's been a long time since I saw you all. It's been almost a month since our last promotion column this week. I wonder if anyone is missing this column.
Recently, many colleagues of mine have reported that many customers are asking about glass jar, especially honey jar, and the pictures sent by customers are all the same. Considering the relevance of the market, we have today's promotion column-honey jar promotion . Today, I will introduce to you the very classic and best-selling glass jars, as well as some of the glass jars with novel designs.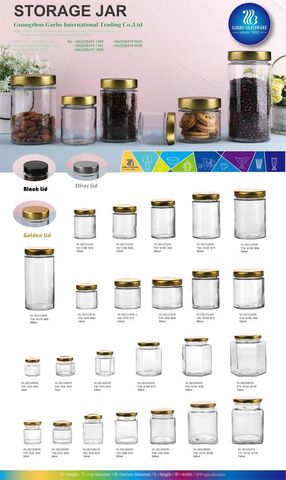 First of all, you can take a look at our promotion page, which covers several styles, shapes and sizes that are most frequently asked by customers.
1. Shape: The most classic shape is the round shape. In addition, the square and hexagonal shapes are also very popular. I believe you should have seen it in the local market, and even this type of jar is what you are using now.
2. Size: You can see from the promotion picture that we have different sizes, from the smallest 50ml to the largest 800ml, which can meet your different food storage needs. For example, small jars are used by most people for honey, jam or small spices. The medium and large sizes are used to hold larger foods, such as nuts, pasta, pickled cucumbers and so on.
3. Lid: You must have noticed that we have different colors of lids, black, silver, and gold. The most asked about these 3 colors, the material is the iron cover. But there is a layer of silica gel to ensure airtightness. Of course, if you want to purchase lids of other colors and materials, we can also meet your needs.
In addition to these classic glass jars, we also have other styles that are also very popular. You can check these pictures below. Different sizes, different shapes, different qualities, as long as you need, we have the corresponding styles to recommend to you. What are you waiting for? If you have any purchasing requirements, please feel free to contact us. If you don't want to miss our news, welcome to bookmark our website, subscribe to our Facebook, youtube and other platforms, we will present you our products every day, not only pictures, but also vivid videos. See you next time!