Pulished on Jul. 05, 2022
Since beginn of 2022 Garbo has been woking on glass&ceramic&cutley combination promotion. As a professional glassware supplier for about 30years, we have developed with a quick speed and considering market and customers' need we have extended our products range until to ceramic and stainless steel cutlery&kitchenware these years.
Garbo upholds the principle of striving to meet all the needs of customers, we hope customers can find all the tableware they need in Garbo, with nice quality and competitive prices. We are keeping showing customers with different combination possibility , pls remember to follow and contact us, we will show the best selling products , like the below series: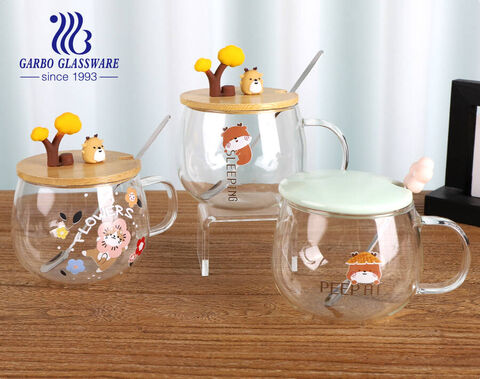 This glass seems pretty delicate, because it is made of high borosilicate glass, which is normally with thinner wall than soda-lime glass, and what are the other advantages of high borosilicate glass?
Firstly it is heat resistant, can borne more than 100 celsius degree, People can use it for both hot and cold water. And the MOQ for high boroslicate glassware is normally very low, 1000pcs is acceptable by us, because most of them are made by handmade craft. I believe many customers already know these, especially Garbo's old customers, Garbo has developed a big market for high borosilicate glass, Every year we will sell more than 400 containers to all over the world. This is why we decide to use it for combination with ceramic and cutlery. This is very hot selling and modern now. This glass mug above is with 450ml capacity, 82mm top diameter, 45mm bottom diameter, 75mm height. As we can see, there are different lid available, ceramic lid and bamboo lid. It is no problem to printing the ceramic lid in other colors. We can also put different images on the bamboo lid. The stainless steel coffee spoon can be made of 410/430/304 stainless steel material, with differant quality rank.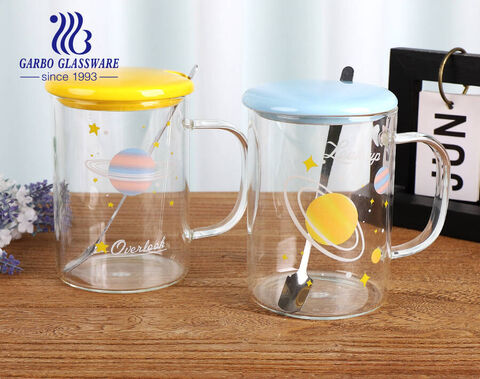 This simple round glass mug is the most normal and classic shape we can see in daliy life, at home on table, in restaurant or cafe. It is with a bigger capacity of 480ml. Normally gift company like to order them and pack them in decorative and high-end gift color box with polyfoam for each glass for double protection. We can do customized printing on the color box . And many customers may also want to do post processing like decal, laser ion plating on the glass to make the glass more special, we are glad to support, like the mug here, the space images were by decaling, this spack serei is also a new designs recently, you can find relative articles here in our website to know more: https://www.garboglass.com/news/new-charming-space-series-designs-on-glassware.html Here we can see 2 different ceramic lid : yellow and blue.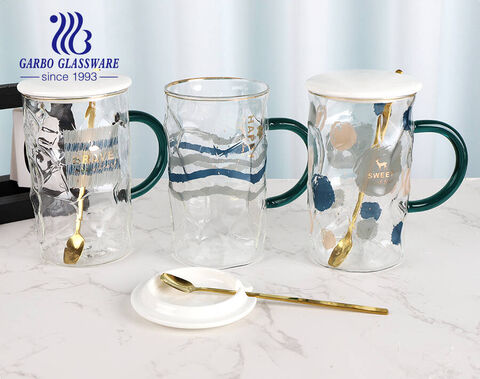 Here comes a irregular shape glass mug with 600ml capacity. It can be a unique gift for friend or family. Even though with this unflat surface , we cal still bring th decaling and printing on it. The factory has sophisticated processing technology. So no need to worry it at all. And about the glass designs, except this we can do more . With professional designer team, we can help design and open new mould based on your requirement.
Garbo is a professional glassware and tableware manufacturer, major in different kinds of items, ranging from glass cup, glass mug, glass bowl, glass jug, glass stemware, glass plate, glass candy jar,glass vase, glass bottle , stoneware, ceramic, porcelain, stainless steel cutlery etc.